Arbeite an deiner Kraft
Wir sind uns sicher einig in dem Punkt, dass es Voraussetzung ist eine gewisse Zahl an Stricten Pull Ups zu können bevor wir überhaupt an Kippings denken. Es gibt unterschiedliche Meinungen über diese Zahl, aber wir vereinfachen das mal und sehen das so:
Du musst in der Lage sein in jedem Augenblick der Bewegung die Kontrolle darüber zu haben!
Wenn es dann soweit ist und du mit Kippings startest, möchtest du dich nicht länger auf pures Glück und einen unförmigen Hüftstoß verlassen um dein Kinn über die Stange zu bekommen. Du fängst an deinen Körper durch deinen Willen zu bewegen.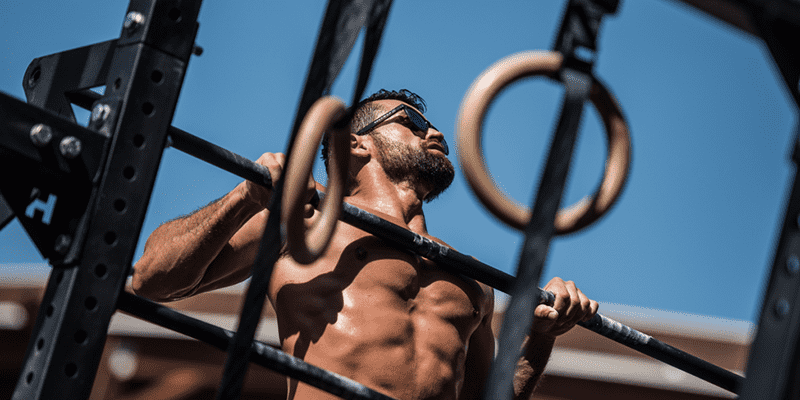 Wieso hast du noch keine Strict Pull Ups?
Es gibt zwei Dinge die ich dich fragen würde:
Wie lange versuchst du es schon?
Was hast du bislang versucht?
Ich frage das, weil ich als Trainer bei meinen Athleten oft beobachte, dass einige im "Bandit" lifestyle stecken geblieben sind.
Damit meine ich, dass du nicht weißt wo du anfangen sollst, von der traditionellen resistance band Methode mal abgesehen.
Versteh mich nicht falsch, die Bänder sind super um Pull Ups zu scalen. Und Ring Rows sind nicht zu ersetzen um ordentlich Kraft aufzubauen.
Der Knackpunkt ist, dass wir die Körperspannung in den Bewegungsabläufen die wir verbessern wollen, nicht genug beachten.
Sagen wir, ich bitte dich deinen Rücken anzuspannen während du an der Stange hängst.
Wenn du kein Gefühl dafür hast wie es ist, den Lat aktiv anzuspannen, dann ist dieses Stichwort bedeutungslos. Du wirst immer wieder darüber stolpern, sei es beim Snatchen, bei Toes to Bars, PullUps usw.
Deine Propriorezeptoren haben keine Chance abzubremsen und zu lernen wo sich dein Körper im Raum befindet.
Benutze also Dinge wie Ring Rows oder One Arm High Pulls um dein Kraft auf verschiedenen Ebenen auszubauen.
Das i-Tüpfelchen ist, dass dein Körper mit der Zeit lernen wird die Spannung zurück an die Stange zu bringen. Irgendwann machst du das automatisch.
Holds sind nicht sexy, aber effektiv
Es gibt nichts besseres als Holds um Kraft und Körpergefühl aufzubauen. Du bekommst sofort Feedback wenn irgendwas schief geht und du die Kontrolle verlierst.
Du machst eigentlich schon nach den ersten Übungen damit Bekanntschaft wie es ist sich verzweifelt an etwas festzuhalten. Wie fühlt es sich an den Lat richtig unter Spannung zu halten.
"Im Zweifelsfall, stärke deine Griffkraft und deinen Core. Deine Bauchgegend und den Griff zu stärken wird automatisch auch deine Kraft in jedem anderen Lift verbessern. Bei den Bauchmuskeln zeigt sich der Effekt zum einen in besserem intra-abdominalen Druck, zum anderen in verbesserter Stabilität. Beim Grip macht man sich das neurologische Phänomen der Ausstrahlung zunutze. Die greifenden Muskeln "strahlen" in andere Muskeln."
Für die folgenden Übungen nutzen wir den Untergriff (Chin Ups). Damit können wir an der Außenrotation arbeiten und damit die Übungen mit Obergriff etwas ausgleichen.
Kinn über die Stange im Untergriff.
Die extra Zentimeter die du dein Kinn über der Stange hältst und die Brust die Stange berührt, führen dazu, dass du die Brustwirbelsäule vollständig dehnst und die Abwärtsrotation des Schulterblatts gestärkt wird.
Untergriffhang mit Gebeugtem Arm
Im Video benutzen wir einen Untergriff. Du kannst auch einen Obergriff nehmen um den Rücken noch etwas mehr zu aktivieren.
Hollow Hold
Ob du es glaubst oder nicht, die Fähigkeit deinen Körper zu versteifen und die Position zu halten beeinflusst so ziemlich alles. Sogar deine strict PullUps.
Strict PullUps – Die Einzelteile zusammenfügen
Gehen wir davon aus, dass alles was du zur Zeit machst die täglichen WODs an der Tafel sind. Ich mache mal die Annahme, dass du nur 5-10 extra Minuten nach der Stunde hast. Ein einfacher Weg um damit anzufangen ist, immer nur EINE der oben stehenden Übungen pro Tag zu machen. Mache das zusammen mit einer anderen Übung die hilft deine Schulter zu trainieren.
Wenn du Holds machst, beginne damit raus zu finden, wie lange du brauchst um insgesamt 60 Sekunden zu schaffen.
Über die nächsten paar Wochen intensiviere deine Übungen in größeren Sätzen. 10 Holds, 15. Holds, 30 Holds…
Arbeite dich zu einem Punkt voran, an dem du Sätze mit 50 Sekunden Holds machen kannst.
Und dann kannst du mir eine Danke E-Mail schreiben, wenn du schon vor dem Frühstück PullUps machst.
3 Tage Sample
Montag
Single Arm High Pull – 3 x 8 / Seite
Hollow Hold – 6 x :10
"Mit dem "Single Arm High Pull" kannst du Druck von der Schulter nehmen. Du benutzt die Aufwärtsrotation der Schulter. Du belastest die Rotatorenmanschette exzentrisch, was super bei einer Sehnenentzündung ist. Die Sehnen können sich neu organisieren. Bei der überwiegenden Mehrheit der CrossFitter sieht man, dass sie dort Probleme haben.
Wenn du der Schulter gibst was sie braucht, wird sie besser arbeiten."
Dr. Jeremy
Mittwoch
Kinn über die Stange im Untergriff – 6 x :10
Farmer's Carry – 3-5 x 100ft
Carrys sind nicht sehr häufig im normalen WOD zu finden, verständlich, denn sie brauchen viel Platz. Aber wenn wir auf die Gewichtsverteilung schauen, sollten dein Carry Leistung ca 110-120% von deinem BackSquat sein. Ich sage das nicht um dich schlecht zu machen, ich sage das, damit du dich in diese Übung wirklich reinhängst. Vor allem wenn du keine Farmer Handles zur Verfügung hast. Es sind echt geringe Anforderungen. Du bewegst ein Objekt von Punkt A zu Punkt B. Denke daran, ein starker Griff führt zu starken Leistungen.
Freitag
Untergriffhang mit gebeugtem Arm– 6 x :10
Landmine Row – 3 x 8 / Seite
Julien Pineau empfiehlt diese Übung um deinen unteren Lat und die schrägen unteren Rückenmuskeln anzusteuern. Ring Rows und DB Rows sind auch gut dafür geeignet. Aber sieh dir an wie er erklärt, wieso es die Landmine Rows härter machen zu bescheißen und du deßhalb wirklich an diesen beiden Schwächen arbeitest.
Wie du sehen kannst, geht es nicht nur darum was du am Rack machen kannst. Wir schauen uns deine Bewegung im ganzen an um am schnellsten ans Ziel zu kommen. Alles was du hier oben ließt ist ein großartiger Weg um morgen anzufangen.
---
pull ups crossfit athlete © RX'd Photography
The post Wieso Du Noch Keinen Strict Pull Up Schaffst appeared first on BOXROX.